Have Zomboo in Your Area!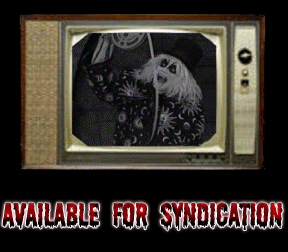 This Week's Movie
July 26th, 2014 - 11:35pm PST


Garden of the Dead was released in 1974. A group of convicts like to get high by sniffing the fumes at the prison formaldehyde factory. One night they decide to escape, and many of them are gunned down only to come back to life as, you guessed it, zombies! Garden of the Dead stars Duncan McLeod, Lee Frost, John Dennis, Susan Charney, and Jack Driscoll.





Cassie

Want to be Fang of the Week? Send us your photos with Zomboo to zomboo@zomboo.com


Welcome to Zomboo's House of Horror Movies! Zomboo is (nearly) world-famous for bringing some of the most terrib... er... I mean scaaary movies ever made into your home.

Every week a different movie is broadcast so check back often to see what will be filling the airwaves this weekend.
Click the Rack Girl!



2010 Zomboo Promo!


As Seen On


Saturday Night 11:35am





Mini-Z thinks webcomics are cool! Go see one of his favorites!