Have Zomboo in Your Area!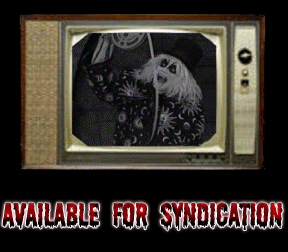 This Week's Movie
August 23rd, 2014 - 11:35pm PST


I Eat Your Skin was released in 1964. A group of obnoxious people visit Voodoo Island where they soon meet up with a bunch of zombies who look like they've been splattered with oatmeal! The zombies need a human sacrifice, and decide to go after the scientist's va-va-va-voom daughter. I Eat Your Skin stars William Joyce, Heather Hewitt, Betty Linton, Dan Stapleton, Walter Coy, and Robert Stanton.





Coffin Girl

Want to be Fang of the Week? Send us your photos with Zomboo to zomboo@zomboo.com


Welcome to Zomboo's House of Horror Movies! Zomboo is (nearly) world-famous for bringing some of the most terrib... er... I mean scaaary movies ever made into your home.

Every week a different movie is broadcast so check back often to see what will be filling the airwaves this weekend.
Click the Rack Girl!



2010 Zomboo Promo!


As Seen On


Saturday Night 11:35am





Mini-Z thinks webcomics are cool! Go see one of his favorites!