Have Zomboo in Your Area!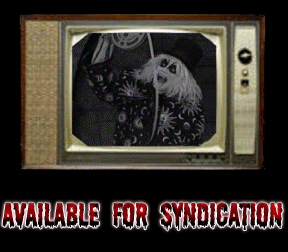 This Week's Movie
December 14th, 2013 - 11:35pm PST


APE was made in Korea and released in this country in 1976. A giant 36-foot ape escapes from a freighter and comes ashore in South Korea where he destroys cardboard buildings and battles the h-o scale army. One day while strolling through the Korean countryside, he comes across a movie set and falls in love with the blonde heroine. APE stars Rod Arrants, Joanna Kerns, Alex Nicol, Nak-hun Lee, and Jerry Harke.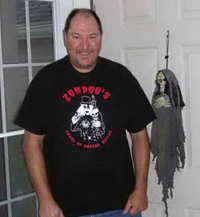 Two Ghoulish Fans

Want to be Fang of the Week? Send us your photos with Zomboo to zomboo@zomboo.com


Welcome to Zomboo's House of Horror Movies! Zomboo is (nearly) world-famous for bringing some of the most terrib... er... I mean scaaary movies ever made into your home.

Every week a different movie is broadcast so check back often to see what will be filling the airwaves this weekend.
Click the Rack Girl!



2010 Zomboo Promo!


As Seen On


Saturday Night 11:35am





Mini-Z thinks webcomics are cool! Go see one of his favorites!