Have Zomboo in Your Area!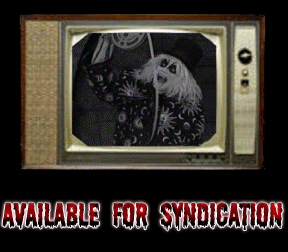 This Week's Movie
Sunday, November 2nd, 2014 - 2:00 AM PST


The Indestructible Man was released in 1956. Butcher Benton, a convicted murderer, is given a one way ticket to the gas chamber. But when Inspector Henderson and Captain Binghamton bring him back to life, he only wants revenge on his gangster pals and his lawyer, (I guess the Butcher canít be all bad), for making him take the rap. The Indestructible Man stars Lon Chaney Jr., Max Showalter, Marian Carr, Joe Flynn, and Robert Shayne.





Dragon Rider & Zomboo

Want to be Fang of the Week? Send us your photos with Zomboo to zomboo@zomboo.com


Welcome to Zomboo's House of Horror Movies! Zomboo is (nearly) world-famous for bringing some of the most terrib... er... I mean scaaary movies ever made into your home.

Every week a different movie is broadcast so check back often to see what will be filling the airwaves this weekend.
Click the Rack Girl!



2010 Zomboo Promo!


As Seen On


Saturday Night 11:35am





Mini-Z thinks webcomics are cool! Go see one of his favorites!